IOXIO® delivers the data economy in practice with SEB and Wärtsilä
IOXIO®, Press release, 17th February 2021 at 12:00 AM EST
From billions of papers to productized data that can be shared with the company's consent with out copying the data in new silos. Towards continuous and real time presentation that also the machines can understand yields a power to change the whole global industry.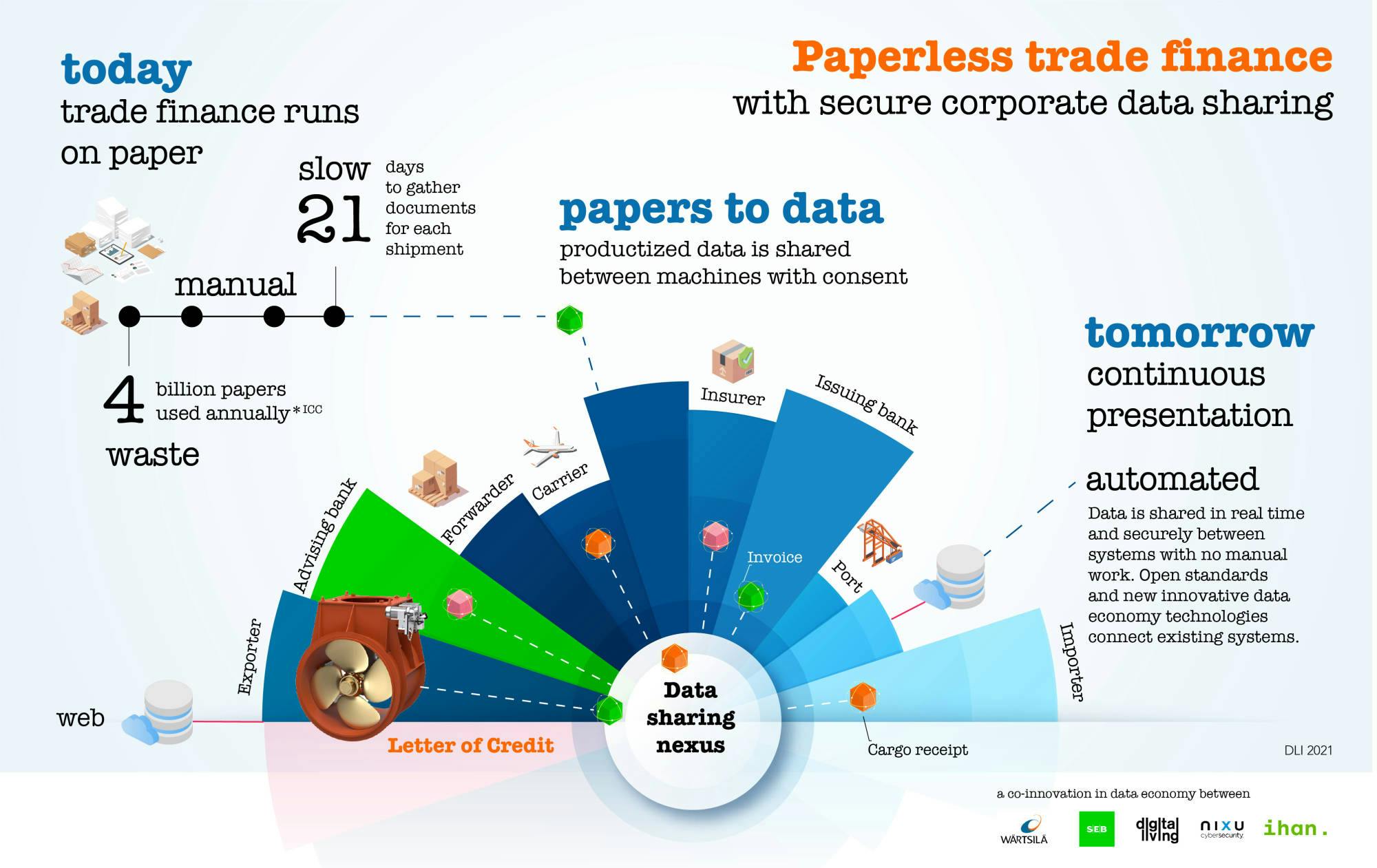 IOXIO delivered an experimentation on secure corporate data sharing for a leading Nordic bank SEB and a global industrial group Wärtsilä. The prototype in paperless trade finance proved that the emerging data economy open standards and technologies can solve significant global challenges and change the way traditional industries operate for better.
Data enables seamless global trade
According to the International Chamber of Commerce ICC, in the world of global commerce over 90% of the trade of industrial goods and products are financed and made secure by banks creating the needed trust between the exporter and importer selling and buying in international markets. The letter of credit is a financial instrument used globally as a payment method in these transactions and sets the legal framework between the exporter and importer that requires a set of agreed documents to be presented with each shipment.

Despite the rapid development made in trade finance automation, we still have over 4 billion paper documents manually exchanged every year creating the biggest bottle neck in making the products available as quickly as possible for the customers of industrial manufacturers. The speed of the global trade is now set by papers being gathered manually and sent over the world. The recent COVID-19 pandemic has put even more pressure to get rid of the paper and move to real time exchange of data between all the parties involved along the path of the shipments.
Co-innovation and new data economy technologies proved to work
SEB and Wärtsilä have a long legacy in constantly developing their processes and are leading the digital innovation also in the trade finance industry in the Nordics. IOXIO and SEB lead the creation of the overall concept and implementation for beyond-the-state-of-the-art data sharing experimentation targeted to completely automate the presentation of needed documents in any transaction globally.
"The experimentation proved that the Nordic companies are in the forefront of the global data economy development and the technologies we are developing in Finland have a power to solve global challenges provided that we make the data available. Yet the most significant end result was the power of co-innovation between different industry leaders, innovative companies and open public infrastructure proving that with brave individuals and true collaboration we can change the world"said Pirkka Frosti, the CEO of IOXIO.
Read more about the experimentation and results from our customers
SEB: SEB and Wärtsilä in ground-breaking test of secure data sharing
Wärtsilä: Wärtsilä participates in paperless Trade Finance experiment

Read the full report about the experimentation can be found. 

More information about the experimentation and technologies that made it possible, please contact:
Pirkka Frosti
CEO, IOXIO ®
+358 50 524 5730